About All Mechanical Service in Shavertown PA

History
All Mechanical's roots start back as far as 1986 from a vision of the owner and now Company President, Geoff Fishel. Geoff's dream of starting his own business began at the kitchen table of his Back Mountain, Pennsylvania home. He worked nights and weekends outside of his day job, steadily growing a service client list.
In 1989, All Mechanical, with Geoff as its only employee, landed a large and lucrative installation contract. It was that year, Geoff left his day job, and All Mechanical became a full time refrigeration, heating and air conditioning service company.
All Mechanical employs five authorized manufacturer's certified technicians and two full time office personnel. Our company has invested in a highly efficient electronic dispatching system (ESC). This system allows our technicians to provide our customers with real time, on-site estimates, client history, and invoicing.
Today, All Mechanical is one of Northeastern Pennsylvania's premier HVAC and refrigeration sales and service companies. We are distributors for the largest and most trusted refrigeration, heating, and air conditioning brands sold in the world.
Now, over 30 years since writing a business plan at his kitchen table, Geoff's dream of a starting an HVAC-R company has not only come to fruition, but continually grows its customer base and its product and service offerings every year.
We are proud to serve customers across the greater Wilkes-Barre area and in Back Mountain communities including: Shavertown, Dallas, Trucksville, Harvey's Lake, Lehman, Kunkle, Noxen, Chase, Pikes Creek and Hunlock Creek.
---
Featured Story
---
Geoff Fishel and his family were featured in Inside-The Back Mountain Story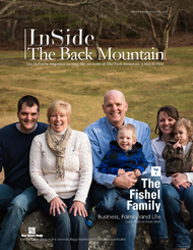 Mission Statement
The mission of All Mechanical is to deliver exceptional customer service with honesty, integrity and compassion that is fostered by a faithful, family oriented culture attracting and retaining the most courteous, professional, compassionate and well-trained employees in the industry.
Vision Statement
All Mechanical's vision is to be the premier commercial mechanical services and residential home services company in the Wyoming Valley and Back Mountain areas, setting the standard in quality work, honesty, and reliability. Our personable and professional interactions with our customers will amaze them and leave a lasting impression of excellence, starting with the very first customer contact with All Mechanical, which creates a customer for life.
Our work environment cultivates a loyal, faithful, family and community oriented attitude that strives to provide the very best technical, customer, and safety training for our employees. Employees will be well compensated and rewarded that carry out our mission and vision.
We will be profitable at all times and will leverage the newest technologies to improve our services, offerings, and operational efficiencies. Further, we will continually improve all aspects of our community in which we live and operate – environmentally, socially, and economically – creating a better tomorrow than today.
---
For more information or to request HVAC and refrigeration service in Back Mountain communities and across Northeastern Pennsylvania, please contact us today at 570-696-2222 or toll-free at 800-360-6979.